Alstead New Hampshire
Images of Alstead
Alstead NH
Town Offices are located at 15 Mechanic Street, PO Box 60, Alstead, NH 03622 (603) 835-2986.  Fax:  835-2986 or via email:  TownofAlstead@comcast.net
Shedd-Porter Library  (603) 835-6661
Alstead is part of the Fall Mountain Regional School District with Alstead Primary for grades K-5 and Vilas Middle School for grades 6-8.
Alstead has a beautiful Public Library building, the Alstead Historical Museum, Vilas Pool, Pratt Rock, Lake Warren, and Alstead Center
Major businesses in town include Benson Woodworking Co. (established 1972), Fuller Machine Co., and Blanchflower Lumber (established 1953)
Alstead is one of the 40 communities
of the Monadnock Region.
Alstead Resources on this site:
EXPLORE THE LINKS AT LEFT FOR MORE INFORMATION
The Alstead NH search aggregates the top 50 search web search results.  These will change from time to time and fluctuate based on the search engine's own criteria.
The Alstead Profile is put out by the State of New Hampshire and provides valuable local contact information, statistics, facts, and information for current and new  local residents including Alstead utility suppliers for electricity, natural gas, water, sanitation, telephone, cellular service, cable tv, and high speed internet.   Largest businesses in the community are listed with the number of employees.
Alstead Weather provides the latest weather courtesy of Accuweather.  You'll find the Alstead Weather for the week including Alstead Radar.
Cold River Data gives you information on the Cold River at High Street Alstead NH from the National Water Information System
The Shedd Porter Memorial Library page gives you information on the local library in Alstead.
If you want information on or are just curious about the other towns of the Monadnock Region, we provide an Interactive Monadnock Tour which gives you a unique map of the region in Tour format.
For other information on the region, use the top level drop-down menus or the links at left under Helpful Resources.
Our thanks to our Featured Sponsors for making this site possible.    If you'd like to showcase your business to thousands and thousands of people, you can become an advertiser.  CLICK HERE for more info.
Newshounds will like the News Stories at this Hour section with local, regional, state, U.S. and World News.
Lower at left you will also find a link to our page(s) for each Monadnock Region Community.


Interactive Map of Alstead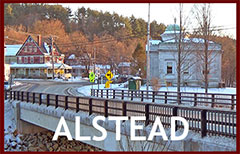 Alstead NH Weather